#1 Rated Escape Rooms in STL Saint Louis Missouri FAQ

Frequently Asked Questions about Escape Room

Escape Rooms

Q: Do we really get locked in a room.

A: Yes but the entrance of the escape rooms is ALWAYS unlocked so if you must exit you simply come right back out the way you came in. The goal of the game is to proceed forward by escaping each room to the final door. If you get out of the escape room before 60 minutes you win.

Q: Can we book a room just for our friends?

A: Yes but you must book the entire room meaning all spots possible otherwise others can book into the room with you. However if you book let's say 8 people very rarely would anyone want to book in with you but it does happen.

Q: Why are our escape rooms the best in St Louis.
A: Easy one. All other escape rooms in St Louis are poorly detailed, typically are just one single room, no electronic puzzles or special FX. Most if not ALL of the local escape rooms offer a theme but the rooms themselves do not give you the impact of that theme. When you visit our rooms they are filled with amazing detail, special FX, complicated puzzles and much more. Our escape rooms have been toured by escape room owners across the nation and we've been quoted as the best escape rooms in America. Our company not only operates escape rooms here in St Louis but builds them across the World for clients everywhere. Trust us there is NO comparison between OUR escape rooms and ANY of the others in the market. We also offer a party room.

Q: Can you explain the parking situation?

A: We own the entire street in front of our building. You can park on the street directly in front of our building or on the side of our building. The escape rooms are located in the building directly attached to The Darkness haunted house. Parking is free and again park directly in front of our building. DO NOT LEAVE VALUABLES IN YOUR CAR... we provide LOCKERS inside you can lock up anything inside the attraction.

Q: Are weapons allowed inside the escape rooms.

A: NO and do not bring any with you.

Q: Do you offer bathrooms?
A: Yes we have both a female and male bathrooms in our escape room lobby.
Q: Where do you wait to play and how early can we arrive.
A: Each game is booked by the hour. If you are scheduled to play at say 5pm be our guest and arrive 30 to 45 minutes early. We have a giant lobby filled with tables, chairs and booths. Additionally we have tons of board games you can play with your friends while you wait. We also have pinball games, air hockey and we sell soda, juices and snacks. We also have an incredible party room with games, shuffle board, pinball, televisions, and much more.

Q: There is a big game on tonight and I dont' want to miss it... do you show sports in the lobby?

A: Yes we do! We have a massive party room which features a 52 inch TV. In our main lobby we feature another 52 inch TV. We have all the sports channels. Every night we're open the TV's are on showing the hottest games. So before your game or after check the scores and check out the games.

Q: Are the rooms SCARY?

A: The themes of our escape rooms are cellar escape, subway escape, and Mummy escape. The Mummy theme is more like Indiana Jones adventure so no not scary. The Subway theme puts you on a runaway subway car that is set to explode once it reaches the city. You must stop the train then defuse the bomb. The subway escape is more like Speed or Die Hard not scary. The Cellar escape features a serial killer theme and although there are some dead bodies inside there are no actors and nothing that jumps out at you. We do not feel its scary but out of the three the cellar is the scariest.

Q: Must I sign a waiver form before playing?

A: NO but we are NOT responsible for ANY injury. You play at your OWN RISK! If for any reason you feel sick, or need medical attention simply walk out of the escape room and come back to the lobby or have someone from your group offer you assistance. No one should get hurt however we are not responsible for anything that happens. We do not require you to sign any type of waiver however you must understand to play at your own risk. If you have any type of medical condition that might cause you problems check with us first.

Q: Is there an age limit?

A: NO however we do not suggest the game for anyone under the age of 12. Each player under the age of 18 must have their parents sign a waiver on their behalf.

Q: Are walk ins welcome?

A: YES! All bookings are done ONLINE! However if you simply walk up you can always check to see avails. Avails on the website won't show because there is a cut off but that doesn't mean we don't have openings. However just because you want to come at the last minute doesn't mean you can't book online. Click on the BOOK TICKETS button and see what is available.

Q: Can I book the entire facility for private parties or times not listed on your website?

A: Yes you can. Contact us directly at info@stlouisescape.com

Q: If we reserve the room and can't make it do you allow refunds?

A: NO once the room is reserved for your group its final. You can however transfer your booking to a group of friends, co-workers, etc. We can also give a credit to book another day.

Q: How much does it cost per person?

A: $25.00 per person.

Q: Can I pay cash on site?

A: We have a credit card machine and can charge anyone for a walk up.

Q: Can We book the entire room?
A: Cellar Escape holds up to 12, Subway 10, Hotel 10 and Mummy 10 people. If you want the entire room you must purchase all spaces. No group can play with less than 2 players.

Q: Are Children allowed?

A: Children between the ages of 8 and 17 are only permitted with an adult. Adults must purchase the tickets and play the game with any and all minors at all time.

Q: Are the lights turned off?

A: NO

Q: Why would we want to do this with our company parties, friends or family?

A: This is the ultimate team building / team work type of attraction. Our rooms are totally different than any other in the area. Our escape rooms are multiple room attractions, with amazing detail and eletronic clues and puzzles. We also feature an amazing lobby filled with board games and more. The rooms are NOT scary, no actors, nothing jumping out at you... just prepare to have a great time.

Q: How far in advance should we book?

A: We recommend booking as far in advance as possible. Our rooms will be the talk of St Louis once the open and will sell out often. If you have a certain date in mind book now. Keep in mind you can just walk in at anytime to see if we have openings typically we do.

Q: If we only have two or three people in our group will we be placed with strangers?

A: Yes but if you book something like 7 or 8 people very rarely does anyone book in with you. However it can happen. If you want the entire room to yourself book all spaces.

Q: Do I need to wear anything special?

A: Nope wear whatever you want. However we do suggest you don't wear heals or big looping jewerly. In fact come casual wearing tennis shoes and a t-shirt. The Mummy adventure is filled with sand the entire floor nothing but sand. Remember it is Egypt! So again come casual.

Q: Where is the entrance? Where do we park?

A: Good question... do you know where The Darkness is located? The Darkness is actually in building 1525 South 8th Street and St Louis Escape is located in the attached building at 1517. So to be exact its the building next door to The Darkness. You simply look for the door with the Escape St Louis sign on it... open it and GO UPSTAIRS! Where to park? Okay... you can park directly in front of the building or any where in the street or circle of the dead end of the street. Hopefully this makes sense but the street is a dead end road its not thru traffic so park along the side of the on ramp which is directly in front of the building.

Q: Are your attractions handicapped accessible?

A: Great question. The entire attraction is on a second floor so not easy to get to for anyone in a wheelchair. The Mummy attraction is totally themed with a sand floor. However if you don't mind going up a couple steps to get inside the building we have an elevator that will take you to the second floor. You have to go thru the Darkness and from there we'll take you to the second floor and then into the escape rooms. Its not very hard if you don't mind a few steps. The games themselves are another story. The Mummy Adventure has a sand floor if you don't mind that its fully accessible. The Cellar escape is totally accessible with the exception of one small part you would have to bypass. We have created a bypass for handicap. The Subway escape has a moving subway car and is by far the most difficult of the three games to play if you are confined to a wheelchair.

Q: Do we need any special puzzle solving skills to play your games?

A: NOPE! You just have to be willing to work as a team to solve puzzles, find things through out the rooms and keep moving in the right direction. Your game master will also help you if you really need it.

Q: What if we show up late?

A: We ask all of our guests to arrive 15-20 minutes early. We will do our best to get you into the game if you show up late however remember the games start right on time with no refunds.

Q: Do you have any tips for playing the games?

A: Yes!!! Not everything is a clue and some items may seem to be clues but are not. Work as a team. Bring paper and a pen so you can write down notes. All of our escape rooms consists of three to five rooms each. In other words almost all other escape rooms are simply one big room, where as our rooms have several you break into and discover. One clue here is that you may get to the end but need to locate something back in the first room to escape. In other words just because you've escaped the first room doesn't mean you may or may not need to back track to crack the room.

No climbing every clue is within standing reach. Be gentle nothing requires brute force.

Ticket Prices are $25.00 Per Person: Teams consist of 2-12 people. If less than 2 people are booked additional players may be added to your group. You must book 90 minutes in advance or attempt a walk up. For larger groups, parties, corporate events please email us at info@stlouisescape.com



IF YOU HAVE ANY OTHER QUESTIONS PLEASE EMAIL US



MUMMY ADVENTURE PREVIEW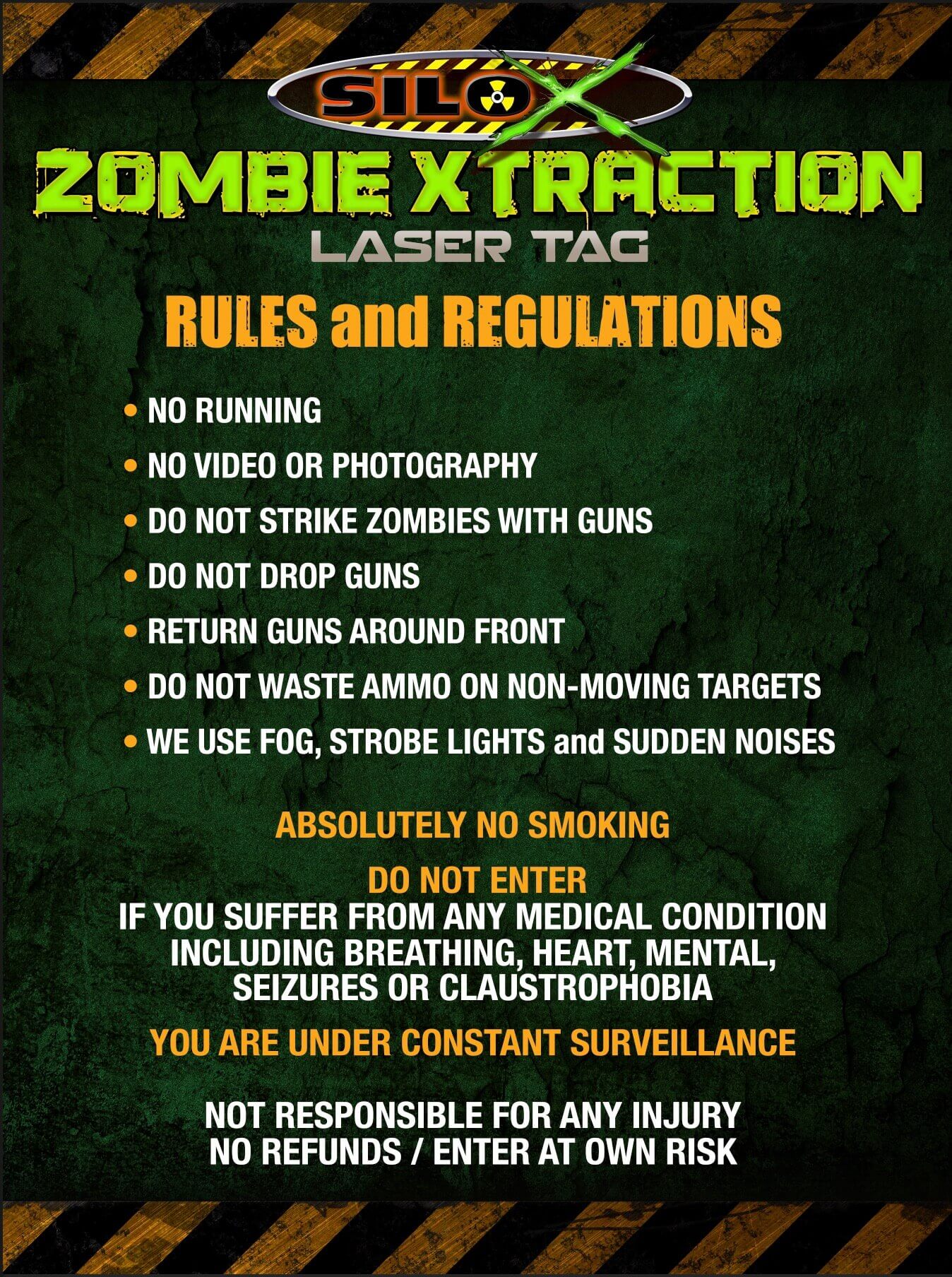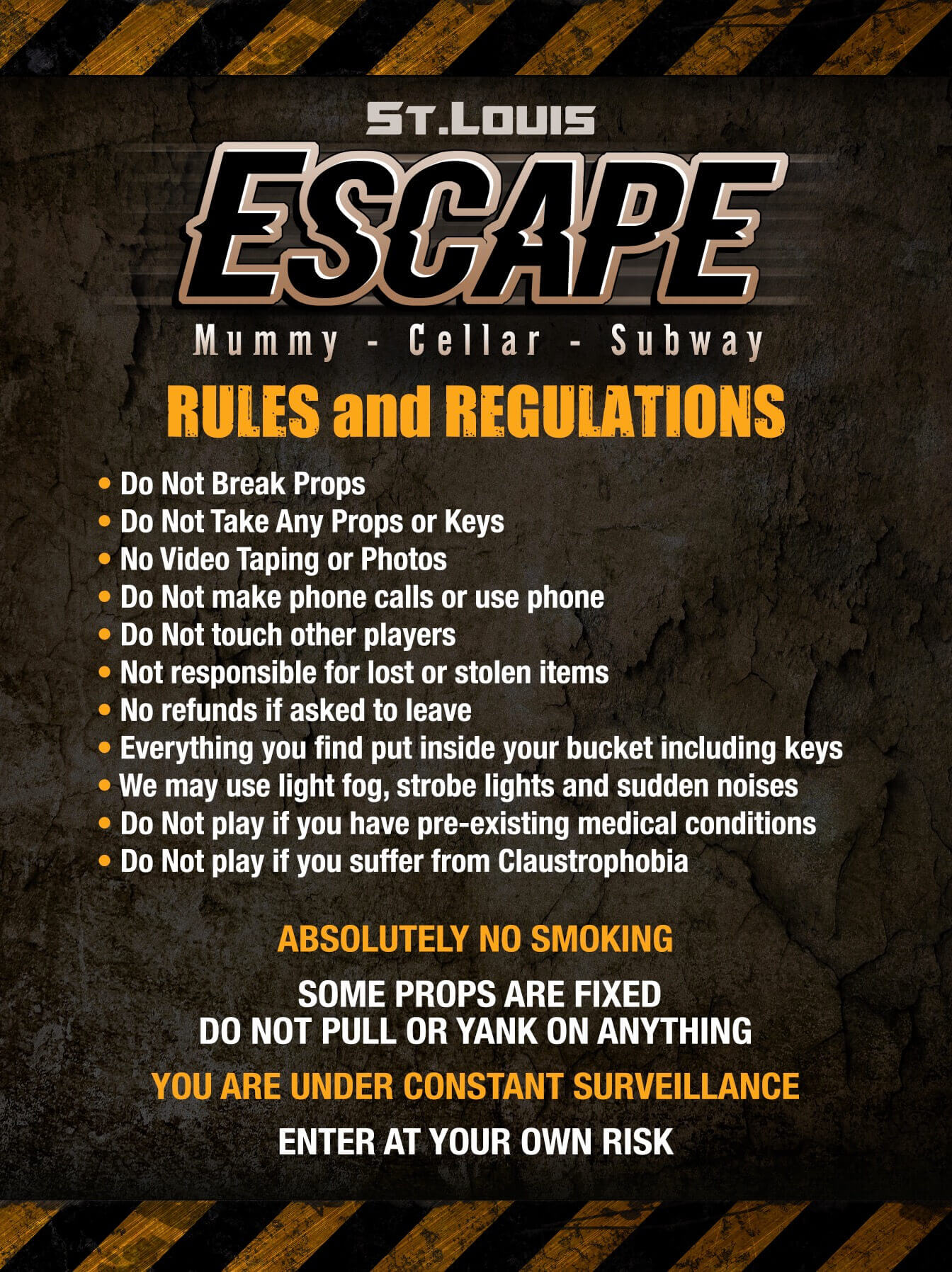 St Louis, Missouri biggest, best and most sophisticated Escape Room Games complete with interactive puzzles, special fx, and much more. Are you ready to crack the codes, find the clues, solve the puzzles and discover the riddles and escape in 60 minutes or less? Saint Louis Missouri has many escape room attractions but the best one is produced by the team behind The Darkness in downtown St Louis Missouri. No other room escape game can compare to the high end realism, special fx, puzzles, clues, and detail. We offer four different escape rooms including, Haunted Hotel, Mummy Escape, Cellar Escape and Subway Escape. Have you ever imagined being a secret agent, a spy, or a bank robber wanting to crack into a safe before getting caught. Our Escape Rooms give you an adventure of a lifetime. We offer corporate groups, team building, birthday parties and much more. Our escape rooms also feature an amazing lobby perfect for your groups to socialize while you wait. Learn more at the best St Louis escape rooms www.stlouisescape.com




All images, content and information contained on this website is © 2018 Halloween Productions, Inc.. • All Rights Reserved
Conditions of Use
|
Privacy Notice